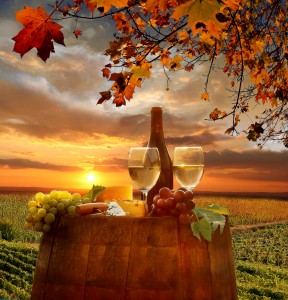 While Napa and Sonoma may be the most well-known regions for wine in the country, they are certainly not the only ones. A growing number of amazing vineyards and wineries are popping up across Michigan, offering visitors a unique wine-tasting experience, without even losing sight of our great lakes.
From the Mission Peninsula to Rose City, Benton Harbor and beyond, Michigan is home to 4 certified American Viticultural Areas, over 100 wineries and more than 15,000 acres of scenic vineyards. Wine trails in these regions range from the Bay View Wine Trail which follows the shores of Traverse Bay to the Lake Michigan Shore Wine Country Trail and lesser-known but no less amazing Sunrise Side Wine and Hops Trail, which follows the historic US 23 Heritage Route.
Those living in Southeast Michigan don't need to travel far to find a wine trail of their own. Encompassing the area from Adrian north to Haslett, and Albion east to Dexter, the Southeast Michigan Pioneer Wine Trail includes 8 incredible wineries in 10 locations including:
• Sandhill Crane Vineyards – Dexter and Jackson
• Pentamere Winery – Tecumseh
• Lone Oak Vineyard – Grass Lake
• J. Trees – Tecumseh
• Flying Otter Winery – Adrian
• Cherry Creek Cellars – Brooklyn and Parma
• Chateau Aeronautique Winery – Jackson
• Burgdorf's Winery – Haslett
A great way to enjoy a couple of hours or a couple of days, a wine tour of the Southeast Michigan Pioneer Wine Trail offers you beautiful views of the rolling countryside, rich history, great shopping, fine dining, as well as some amazing wines, all without leaving the region.
With summer waning and fall quickly approaching, the cooler temperatures and shorter days make this a busy time of year at the wineries and one worth taking a look at. Wine tours allow you the opportunity to see the process and of course, enjoy the spoils. From romantic couples outings, to a girls' day out, learning more about this tradition and growing trend, while enjoying a glass, or more, of wine, created by some of the most well-known and popular wineries in the area, is never a bad idea.
No matter where you are, the biggest issue when it comes to enjoying an afternoon sipping wine, is how to get where you are going without having to drive. Metro Motor Coach offers you great way to enjoy the day safely and in style. Our fleet includes the Marathon Coach (Up to 40 Guests), the Millennium Coach (Up to 55 Guests) and the Renaissance Coach (Up to 56 Guests). See the Michigan countryside, enjoy some stunning wines and have an amazing fall experience by choosing Metro Motor Coach as your charter bus provider on your next wine tour. To find out more or to make a reservation, call Metro Motor Coach at 248.390.7664.