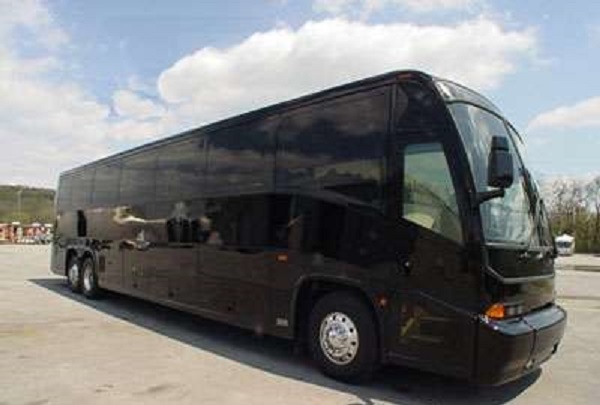 Hiring a charter bus for you next group outing is the ideal way for large groups of friends or family to travel. Here are the top reasons you might want to consider a charter bus when planning the next trip for your school, church group, athletic team, family reunion or any other group travel.
Using a charter bus rental service is great if you're looking for comfortable transportation for your special event such as a sporting event, corporate meeting, school field trip, or family reunion. Most charter buses and motorcoaches have plush, comfortable seating and plenty of room to stretch your legs and even roam about if necessary. Sitting for long hours in the confinement of a standard vehicle can cause travelers to become stiff, uncomfortable and even downright grouchy.
When you choose to travel together in a chartered bus, you won't have to worry about anyone getting lost, having car trouble or arriving late to your destination. Charter bus companies are responsible for providing buses that have been well-maintained but even in the unlikely event that the bus has mechanical issues, the bus service will immediately provide a replacement vehicle to get you and your guests on your way again.
If you are conscience of saving time, money and the environment, a charter bus may be the solution you're looking for. This is because by using this service, no one will have to drive separately or rent cars at your destination and the cost per person to rent a bus is often less than the cost of driving separately. You'll also save time by making sure your group stays together and you'll never have to wait for someone running late. And finally, driving in one vehicle reduces the impact on the environment.
Safety is a top priority for anyone planning group travel. Charter bus rental companies know this and understand and follow the rules, regulations and laws pertaining to group travel and they make it their priority to keep you safe. Most charter bus companies hire only drivers who are highly trained and experienced. Charter bus companies are also required to have all of the necessary insurance policies and permits required for safely transporting your group to and from your destination. Another safety factor to consider is the alertness of the driver. Most people who have traveled understand that group activities can be exhausting. Whether your trip is a sightseeing tour or a family reunion, the days outing can leave you feeling sleepy. However, while you and your group are enjoying your event, the bus driver can relax and be fresh and alert when it's time for the ride home.
Charter buses offer amenities that make the travel time seem shorter. With entertainment options like, TV's, DVD's, stereo surround sound, Wi-Fi and more, you and your travel companions can almost forget you're on the road. On-board restrooms will help cut down on those frequent pitstops too and get you to your destination faster.
Metro Motor Coach is your ground transportation solution. At Metro Motor Coach we provide safe, reliable motorcoach transportation services aboard our well-maintained fleet of luxury charter buses. We have a full range of charter buses to choose from, and can accommodate the transportation needs of any size group. Whatever the occasion may be, Metro Motor Coach is committed to providing you and your guests with the right vehicle and driver to ensure your safety and comfort! If you have questions or would like to request a free, no obligation quote, contact us today at 248.390.7664.