The Detroit Zoo is a Michigan favorite for school, church and scouting groups and is open year round. On top of the hundreds of exhibits where students can visit animals in natural settings, The Ford Education Center offers an additional educational opportunity where students experience superior educational programs. The Detroit Zoo isn't just for children though. With over 125 acres to roam and thousands of animals to view, the zoo is loved by the young and old. People of all types come from all over the country to visit this award winning zoo.
Favorite exhibits include the Butterfly Garden, the Penguinarium, the Great Apes of Harambee, the Holden Reptile Center and the new Arctic Ring of Life. These exhibits and more are why the Detroit zoo attracts over 1.3 million visitors a year. Besides the 2,400 animals of 255 species, visitors can take a ride around the zoo on the Tauber Family Railroad, enjoyed by over a half million people every year. Zoo visitors can also enjoy a ride on a hand carved and painted horse, bird, mammal, dinosaur or other animal on the Detroit Zoo Carousel. This custom made marvel holds up to 546 riders at a time and is a much loved feature, taking over a million passengers a year on a whimsical ride.
The 4-D theater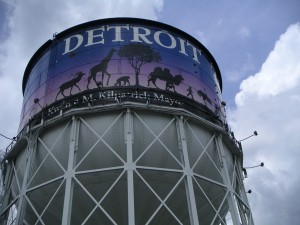 allows visitors to experience a 14 minute 4-D film based on the movie The Polar Express. This exciting exhibit is only available in November and December during "wild Lights" where the entire zoo is lit up by millions of LED lights. Other events like the Sunset at the Zoo, Wild Beasts and Wine, and the Zoo Brew give adults an opportunity to visit the zoo after hours while enjoying a favorite beverage and a variety of foods and musical entertainment. Another adult only event is the Love Gone Wild Night held once a year on Valentine's Day. For $50 participants receive complimentary hors d'oeuvres, two drinks, a commemorative gift and a biology lesson on the birds and the bees when it comes to the zoo's animals.
There are plenty of special events for families, kids and school programs too. The Zoo Boo celebrates Halloween with a trick-or-treat trail. Bunnyville is a family fun day featuring Easter egg hunts, games, crafts, prizes and the Easter Bunny. The Zoo even has a special event for Mother's Day where families are served a breakfast buffet, visit the butterfly house and mom's receive a special gift handmade by their kids.
The list of exhibits and special events at the Detroit Zoo are too numerous to mention but Metro Motor Coach can make it a special day for whatever type of group you belong to. We can accommodate any size group and you can avoid finding a parking place or wondering when your entire group will arrive. If you haven't been to the zoo in a while, it's time to rediscover this popular Michigan attraction.
Metro Motor Coach will get you safely to your destination with well-trained drivers who know what they're doing and are as concerned about your group's safety as you are. If you're looking for comfort, Metro Motor Coach has vehicles to meet every need, destination or group size. Vehicles are equipped with climate control, HD TV's, DVD players, surround sound, or charter buses equipped with on-board restrooms and beverage service stations. Why not get your friends, family or other social or church group together and let Metro Motor Coach help you plan the perfect trip.
Plan your trip to the Detroit Zoo Today! Call 248.390.7664.