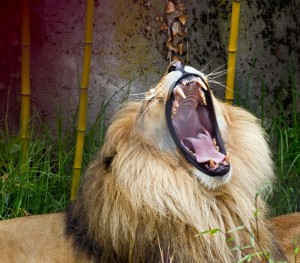 The Detroit Zoo is one of Michigan's largest attractions, with more than 1.1 million visitors annually. The Zoo is located on 125 acres of naturalistic exhibits, and provides a natural habitat for more than 2,500 animals including birds, reptiles, amphibians and invertebrates representing 280 different species.
The first Detroit Zoo opened in 1883 on Michigan and Trumbull Avenues, across from Tiger Stadium however, it closed at that location the following year and the building converted into a horse auction.
The Detroit Zoological Society was founded in 1911, but the Detroit Zoo's official opening did not occur until August 1, 1928. By 1930, the Bear Dens and Sheep Rock had been added, followed shortly by the Bird House. The Detroit Zoo was the first zoo in America with cage-less exhibits.
The Arctic Ring of Life, North America's largest polar bear exhibit, opened to the public in 2001. The Arctic Ring of Life exhibit is a 300,000 gallon aquarium which allows visitors to view the polar bears and seals from an underwater tunnel. Ford Education Center (opened 2005) offers school and youth group programs as well as having a theater and exhibit space.
On February 18, 2006, the Detroit City Council voted to shut down the Zoo as part of budget cuts. An uproar ensued, and the Council voted to transfer operations to the Detroit Zoological Society. On August 5, 2008 voters in Macomb, Oakland, and Wayne counties passed a zoo tax which provides long-term sustainable funding.
Some of the many Zoo attractions include:
Amphibiville is home to a spectacular diversity of frogs, toads, salamanders, newts and caecilians.
The Arctic Ring of Life is North America's largest polar bear exhibit.
Mardigian River Otter Habitat provides a habitat for river otters and features a 5,900-gallon pool complete with waterfall and waterslide.
Australian Outback Adventure is home to a mob of 20 kangaroos and their close cousins, the red-necked wallabies.
Cotton Family Wetlands and Boardwalk mimics Michigan's ecosystem.
Dinosauria! The nation's largest animatronic dinosaur exhibit.
Giraffe Encounter, guests are able to feed three giraffes from a balcony pavilion.
The Great Apes of Harambee habitat houses chimpanzees, western lowland gorillas and drills.
Holden Reptile Conservation Center is a museum of Living Reptiles.
Penguinarium was the first zoo building in the world designed entirely for penguins.
The Polk Penguin Conservation Center is scheduled to open in early 2016.
Among other highlights at the Detroit Zoo include the Horace H. Rackham Memorial Fountain, the Tauber Family Railroad, the Carousel, the Ford Education Center which houses the Wild Adventure Ride and the Wild Adventure 3-D/4-D Theater, the Warchol Beaver Habitat, the Wildlife Interpretive Gallery, the Butterfly Garden, and the Wilson Free Flight Aviary.
General admission to the zoo
$14 for adults 15 years +
$10 for children 2-14, seniors 62+ and Active Military with ID
Group Rates
$12 for adults 15+ years
$8 for Child 2-14 years, Senior 62+ years and Active Military (with ID)
School Group Prices (Discount price is subject to PRE-PAYMENT and zip code verification.)
Student – $5
Adult (Includes Chaperones & Teachers) – $5
There's something for everyone at the Detroit Zoo. Family-friendly special events include activities and games that celebrate all of the seasons. Check the Detroit Zoo's website for event dates and times at www.detroitzoo.org. There are several 21-and-older events throughout the year that feature food, drinks, beer and wine tastings, live entertainment and the thrill of the Zoo at twilight. No matter your age, the Detroit Zoo is sure to delight!
At Metro Motor Coach, we are as excited about your event as you are! Whatever the occasion may be, Metro Motor Coach ensures you and your guests will be provided the right vehicle, with professionally chauffeured safety and comfort!
Call us today to book your event! 248.390.7664