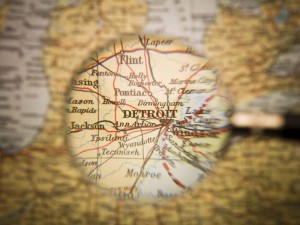 The Detroit Historical Museum, located at 5410 Woodward Avenue in Detroit is a true gem in the downtown area. First time visitors are pleasantly surprised that this relatively small, donation only museum packs so much history within its walls. Most visitors say it takes between 2 and 3 hours to explore all the fascinating exhibits, which represent the history of Detroit and southeast Michigan. One of the favorite permanent exhibits is the newly renovated "Streets of Old Detroit" which tells how car manufacturing made Detroit what it is. The exhibit shows how Detroit built cars, from the very beginning starting with hand-built horseless carriages. It explains how the innovation of the moving assembly line and Detroit inventors and entrepreneurs, came together to brand Detroit as the Motor City.
Another popular exhibit portrays the part Detroit played in the Underground Railroad. The exhibit shows how after the Fugitive slave Act of 1850 was enacted requiring salves to be returned to their owners, many of whom saw Canada as a safe haven and Detroit became known as the "doorway to freedom." Detroit became a "railroad" as such and used terms like "stations", "conductors", "passengers" and "baggage" as code words for safe houses, people who wanted to help and the runaways themselves. This amazing exhibit allows visitors the chance to experience what the journey might have been like and to learn the stories of the actual people who made those journeys
Some of the other permanent exhibits include:
• "Arsenal of Democracy" exhibition explores the ways that Detroit shaped the outcome of World War II
• "Frontiers to Factories" Detroiters at Work, presents the story of the first two centuries of Detroit's history in an exciting and educational way, telling the often-ignored story of Detroit up to the 20th century.
• "Kid Rock Music Lab"— an interactive, space that explores the rich legacy of Detroit's music from Gospel to Motown and all things in between
• "The Glancy Trains" are a museum favorite and showcase the collection of trains once owned by Alfred R. Glancy Jr. former-owner of the Empire State Building in New York City.
• "Streets of Old Detroit". The Detroit Historical Museum's most beloved signature exhibit located in the lower level of the museum allows visitors to step into the past and experience the city's dramatic transformation
As well as the several permanent exhibits, the museum also offers a number rotating exhibits. So if you haven't been in a while, you might want to revisit and see what's new. This museum is a must see for locals and out-of-towners. Why not get your church, school or other group together and visit Detroit's Historical Museum today?
Metro Motor Coach is always looking for new ways to enhance your travel experience. We have vehicles to meet every need, destination or group size. Metro Motor Coach will get you and your guests there in comfort and safety. Vehicles are equipped with climate control, HD TV's, DVD players, surround sound, or charter busses equipped with on-board restrooms and beverage service stations.
At Metro Motor Coach, we are as excited about your event as you are! Whatever the occasion may be, Metro Motor Coach works hard to ensure you and your guests get where you need to go on time and in style.