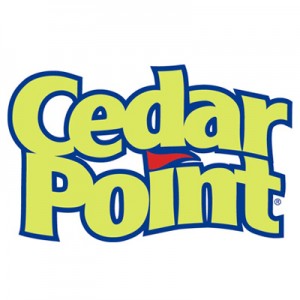 Cedar Point has been a popular summer destination for families and school groups since 1892 when they opened the first roller coaster, the Switchback Railway.  This top-rated amusement park, located on the shore of Lake Erie, is one of the best known in the world and just keeps getting better year after year.
Every season brings a taller, faster, and longer roller coaster and 2016 is no exception.  The new coaster, the Valravn, will have you hanging on as you climb 223 feet into the air and just before you drop over the 90 degree cliff; they let you dangle for a frightening 4 seconds.  This thrilling ride will get your blood pumping as you travel up to 75 miles per hour on this 3-minute ride which includes two major plunges and three twists that flip you upside down. The rides appropriate tag line is Dare 2 Dive!
The new Frontier Inn might just be the spot to settle your nerves after a trip on the Valravn.  The cozy, family-friendly restaurant is located in Frontier Town near the Wave Swinger and the Maverick.  Offerings include delicious hand-battered buttermilk chicken tenders, sandwiches and fresh salads along with a variety of sides.
Fun Pix is a new way to save and share your memories and moments at Cedar Point that you've captured on film. It's inexpensive and easy to use; just create your personalized account and start downloading and sharing.  It's the perfect way to preserve your special day.
Just inside the gates of the main entrance, you'll find the new Coca-Cola Oasis.  Quench your thirst on the way in and fill up again on the way out in your refillable souvenir drink bottle.
For the true Cedar Point enthusiasts there are two new offers that are sure to excite. The Ride Warriors Club is an exclusive member's only club that allows members private riding time, off-season and pre-opening events and tours, on-ride video opportunities, face-to-face meetings with the park management and more. What better way to experience all the park offerings than with this fun exclusive club?
The second offer is a money saver for frequent visitors. Visit the Cedar Point website to see the 100 reasons you should purchase your season pass!
And finally, have you ever wanted to try glass blowing?  Now you can at the Glass Blowing Academy at Cedar Point.  You can just watch and learn about glass blowing or actually blow your own glass design and take it home.
Whether you come back year after year for the old standards like the Blue Streak or Mine Ride or you're someone who needs to conquer the newest and fastest, there's something for every taste and every age at Cedar Point.
If you're planning a trip to Cedar Point with your group, Metro Motor Coach will get you safely to your destination. Our well-trained drivers are experienced and as concerned about your group's safety as you are. If you're looking for comfort, Metro Motor Coach has vehicles to meet every need, destination or group size. Vehicles are equipped with climate control, HD TV's, DVD players, surround sound and our charter buses are equipped with on-board restrooms and beverage service stations. Why not get your friends, family or other social or church group together and let Metro Motor Coach you plan the perfect trip.
Plan your trip to Cedar Point today! Call 248.390.7664.